Hevpeyvîn
Hevpeyvîn bi Alî Gurdilî ra: Bêrîvan Kayi
1- Tu ji beşa sosyolojiyê mezûn bûyî lê te berê xwe da felsefeyê hem jî beşeke ku têgehên felsefeyê zêde di kurdî de nehatine nîqaşkirin, te gelek pirtûkên felsefeyê yên wek 'Dengê Felsefeyê', 'Rêwîtiyeke Zanistî', 'Destpêka Felsefeyê', 'Antolojiya Feylesofan' û hwd derxistin. Tu dikarî qala zor zehmetiyên vê rêwîtiya xwe bikî?
– Belê, rast e. Lê dikarim bibêjim ku meyla min li ser felsefeyê jî zahf bû û mamosteyên dersên me yên felsefeyê jî, felsefenasên serkeftî bûn. Rehmetîyê Kurşat Bumîn yek ji wan kesan bû, ku felsefeyê zêdetir bi min daye hezkirin. Dîsa Prof. Ahmet Arslan jî her wiha. Dema meriv ji rojavayê cîhanê mêze dike, meriv dibîne ku gelek civaknas, di heman demê de felsefenas yan jî, em bibêjin feylesof in. Ji xwe ji ber têkilîya felsefe û zanistên civakî, ez vê yekê xerîb nabînim. Ji ber ku mirovên têgihiştî dizanin ku felsefe jî wekî huner, zanist, wêje û hwd. perçeyeke jiyana me ye û di demajoya xwenasînê de, rêhevaltîya meriv dike û qet nebe, hêvîya meriv a xwegihandina 'heqîqetê' xurt dike. Piştî ku min zaningehê qedand, min dest ji xwendinê berneda û min xwest ez bi zar û zimanê xwe, li ser van mijarana bixebitim. Lê mixabin ji ber tunebûna çavkanîyên bi zimanê kurdî, min zahf zehmetîyan dî. Piştre, min biryara xwe da ku ez hinek kar û xebatên destpêkî bikim. Wê demê, min dest bi xwendina kovar û kitêbên kurdî kir û piştî 2-3 salan, kitêba min a yekem (Dengê Felsefeyê. Weşanên Doz) di sala 2006an de li Stenbolê hate weşandin.
Di sala 2007an de jî, min Malpera Felsefevan vekir û me, dest bi weşanê kir. Armanc ew bû ku me xwest em bi zimanê kurdî, li ser mijarên felsefeyî û zanistên civakî, kar û xebatê bikin. Du caran, êrîşî malpera me kirin û malper, hate rûxandin. Hinekî me navber dabê jî, xizmeta malperê hin jî berdewam e. Ji ber ku navê malpera me jî felsefevan bû, ligel çend hevalên xwe di bîrûraya kurdî de, em jî wekî felsefevan hatin nasîn û me xebatên xwe, berdewam kir. Wê demê gelek nasên min digotin, tu dîn î û tê, bikaribî çi bikî? Digotin, kurd çîrokan bi zimanê xwe naxwînin û tu dibêjî, ez ê bi zimanê kurdî li ser mijarên felsefeyê bixebitim. Lê divabû min dest pê bikira, ji bo ku em derengtir nemînin û min ji xwe dest pê kir. Tiştê min dinivîsîya, min wan li ser malperê jî diweşand û her wiha li ser medya sosyal jî. Bi saya piştgirîya gelek kesên kurdîziman, dildarên zimanê kurdî û hezkarên felsefeyê, bi hewar û qerîn be jî axirî dengê me çû bîrûraya kurdî û felsefehêzên kurdan gotin ku 'felsefe, bi kurdî xweş e.' Beyî guman, rêya me dûr û dirêj e û em hina jî, di asta destpêkî de ne.

2- Gelo di nav kurdan de xebatên li ser felsefeyê kêngî dest pê kirine û di rewş û asteke çawa de ne?
– Zehmet e ku meriv bikaribe tarîxeke berbiçav nîşan bide û bibêje ku felsefe, wê demê dest pê kiriye. Zahf haya min ji Başûr tune, dibe ku bi zaravayê soranî hinek xebat hatibin kirin. Lê mixabin, haya min zahf ji wan tune. Li Bakur jî ji bilî çend hewldanên şexsî, xebatên bi rêkûpêk, nehatine kirin. Herweha, dem û dezgeyekê me a ku bikaribe xweyîtîyê li xebatên felsefeyî bike jî, mixabin tune. Min zahf dixwest ku sazîyekê me, di van xebatên min de piştgirîya min bike û xwedî li xebatên min derkeve. Lê mixabin, kesî dengê min seh nekir û ez, bi serê xwe mam. Heke piştgirîyekê pozîtîf, hebûya îxtîmal e ku min dikaribû gelek xebatên din jî bikira. Ji ber ku karê min kir ne tenê amadekarî ye, hemin karê wergerê ye jî. Çimkî zanînên ku ez wan bikar dihînim, bi zimanê me tune nin. Mecbûr dimînim ku ji gelek zimanan wan wergerînim û kirasekî kurdî, li wan zanînan bikim. Ev jî, di vî warî de zehmetîyeke din a mezin e. Lê ne xem e, bi hemd û sebr, ez ê xebatên xwe bidomînim.
Li vir dixwazim hinekî behsa ferhenga felsefeyê a bi zimanê tirkî bikim: Prof. Macît Gokberk di pêşgotina kitêba xwe ya 'Dîroka Felsefeyê' de, ku çapa wê a yekem di sala 1961an de hatiye çapkirin, wiha dibêje: 'Ev kitêb, encama xebata min ya pazdeh sala ye. Di kitêbê de, helbet hinek kêmasiyên me hene, bibexşînin. Ev kêmasî çawa ku yên min in, wisa jî ê zimanê tirkî ne, ku hêdî hêdî dixwaze bibe zimanê kulturê û ketiye wê rêyê.' Ligel hebûna dewletê jî, encax sala 1961an de, ferhengeke felsefeyê bi zimanê tirkî hatiye weşandin. Lê ligel hemû tehde û qedexeyan, ligel hebûna polîtîkayên asîmîlekar û nebûna sazîyeke me a navendî, ferhengekê me îro heye û di xizmeta kurdan de ye.
3- Pirsgirêkeke mezin a xebatên li ser felsefeyê jî ew e ku têgehên felsefeyê zehmet tên wergerandin. Di pêvajoya amadekirina ferhengê de te rêyeke çawa da ber xwe û gelo te ji zaravayên din ên kurdî jî sûd wergirt?
– Felsefe, berî her tiştî çalakîyek e, rahişmendîyeke aqilî a mirovî ye. Kesên ku felsefe dikin, lazim e xwedan awireke gelemperî (tevbar, tümel, universal) bin. Dema felsefe dikin jî, têgihan bikar dihînin û bi vî hawî, metnên felsefeyî derdikevine holê. Pêşî divê meriv bifikire, hinek rûdan, pêhatî û bûyeran bide ber lêpirsînê, pirsên xwe bike, xwedan awireke şikwer be û karibe, xwe ji pêşhukmîyan rizgar kiribe. Hingê dikare bi her awayî ramanên xwe bibêje, bikeve guftegoyan û rêya xwe, bidomîne. Rast e, wergerandina têgehan zehmet e. Lê a girintir ew e ku meriv bikaribe felsefe bike û bixwîne. Hingê, meriv bi maneya wê têgihê dizane û heke hebe, dikare di şûna wê têgeha (têgih, kavram, concept) biyanî de, têgiheke bi zar û zimanê xwe, bikar bihîne. Lê heke tunebe, hingê ne mesele ye ku meriv têgiha resen bikar bihîne. Ji xwe em dizanin ku pirranîya têgihên felsefeyî, eslê wan yewnanî ye û ji wir ketine zimanê latinî, fransî, ingilizî û hwd. Mesela di şûna felsefeyê de, bi hêsanî em dikarin bibêjin 'philosophia' jî, ne pirsgirêk e. Di amadekirina ferhengê de, heta ji destê min hat min têgihên kurdî yên ku hene û berbelav in, bikar anî. Lê min bi xwe, têgih çênekirine û têgihên ku di berhemên kurdî de cih girtine, bikar aniye. Li gelek cihan de jî, min têgihên yewnanî û ingilizî jî daniye. Li ser vê xalê, wekî gotina dawî dikarim bibêjim ku şertê pêşîn ew e ku meriv bikaribe bi zimanê xwe bifikire. Piştî vê yekê, meriv dikare têgihên ku dê bikar bihîne ji bo xwe peyda bike.
4- û Gelo di pêvajoya dîrokî ya kurdan de felsefe cihekî çawa dadigire û di nav vê dîroka qedîm de felsefeya kurdan heye? Ku hebe çiqas kevnar e ango koka wê digihîje heta ku?
– Felsefe, malê tevahîya mirovahîyê ye û di pêşketina çanda cîhanê de, xwedîyê roleka girîng e. Bi saya felsefeyê, medenîyeta rojavayê îro li ser xwe ye, zindî ye û karibûye her bi pêş bikeve. Kurd jî, perçeyekê çanda cîhanê ne û di demajoya xwebûn û xwenasînê de, dikarin ji felsefeyê sûdeke mezin bigrin. Lê mixabin, rê li ber me hatiye girtin. Ev ne bes, welatê me jî li herêmeke wiha ye ku jêdera pirranîya zanînan (bilgi, knowledge) raman û kitêbên pîroz in. Dema meriv bi xwe lê venekole, nede ber lêpirsîne û jê nekeve gumanê, nikare rastîya wê arîşeyê bizanibe. Çimkî zanînên heyî, zanînên kitêbî ne û li ber dest an in. Di rewşeke wiha de kes serê xwe xwe pê naêşîne, jê gumanê nake û ew çawa be, wiha dipejirîne. Di rewşeke wiha de guherîn, lêpirsîn û pêşketin, rû nadin. Loma, ez ji rewşa Rojhilata Navînî a niha qet şaş nabim. Dema meriv li medenîyeta yewnanî mêze dike, meriv dibîne ku wan dîwarê xwe bi xwe lê kirine. Hostayê dîwarê xwe, ew bi xwe ne. Loma karibûne bibin çavkanîya medenîyeta, rojavayê. Bi aqilê xwe, bi hiş û zêhna xwe, bi zimanê xwe felsefe kirine û bi vî hawî, xizmeta tevahîya mirovahîyê jî kirine. Ev xal, giring e.
Li ser pirsa we a 'felsefeya kurdan' jî, dikarim bibêjim ku belê felsefeya kurdan heye. Felsefeya kurdan yekê aştîxwaz, xwezaparêz û mirovhez e. Terz û awayê jiyana kurdan, bi serê xwe jî felsefeyek bûye. Loma, em hewqasî di bin zilm û zordê de de mane. Lê heke mexseda we felsefenas û feylesofên kurdan bin, belê ew jî hene. Şihabedînê Suhrewerdîyê kurd, damezranerê ekol û felsefeya îşraqî (ronahîdarî) ye, lê mixabin cezayê mirinê lê hatiye birrîn û hatiye kuştin. Di berhemên me yên klasîk de, gelek ramanên felsefeyî hene. Mixabin, hê baş nehatine vekolandin. Lê hina hina, dertêne ber ronahîyê. Berîya demekê, derbarê Zerdeşt Pêxember û Postmodernîzmê de, min hinek lêkolînan kir û ez bi xwe jî, ji tesîra Zerdeşt Pêxember, a li ser feylesof, ramanwer û ruhnasên naskirî, şaş û ecêbmayî mam. Lazim e, em bixwînin û lê bikolin. Li vir ez nabêjim Zerdeştê Kal, kurd e. Na. Lê em dizanin ku tesîra wî, li ser çanda kurdan zahf hebûye û di siberojê de, lazim e em lê vekolin.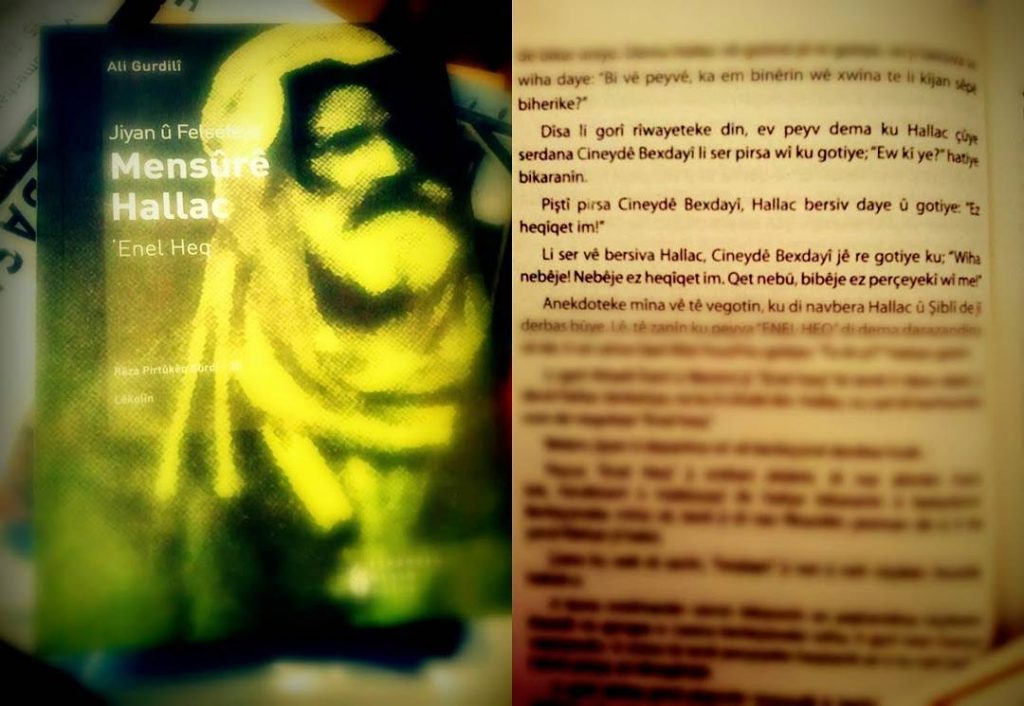 5- Li gor Deleuze felsefe çalakiya afirandinê ye, Yanî felsefe hunera afirandin, kifşkirin û hilberandinê ya têgehan e, feylesof jî têgehên kifş dikin û li ser wan difikirin. Lê belê dema em li civaka cîhanî dinihêrin em dibînin ku di vê mijarê de zêde navûdengê me tune ye. Ango felsefe di nav civaka me de zêde ne berbelav e. Li gor lêkolîn û xebatên te yên li ser felsefeyê sedema tunebûna feylesofên kurd çi ye?
– Gelek kurdan felsefeya xwe bi zimanên serdestên xwe, yan jî bi zimanên ku bazara wan hebûye kirine. Lê, ne tevahîya wan. Feylesofê kurd, hene û em nikarin bibêjin ku tune nin. Çimkî, ew pênaseya 'feylesof' bi xwe jî, mijara nîqaşê ye. Lê heke were gotin ku ramanên xwe sîstematîze nekirine, dê ev yek rast be. Ji ber tesîra dîn, me gelekên wan wekî şêx yan mela, qebûl kiriye û me, ramanwerî yan feylesofîya wan, red kiriye. Vê yekê jî, rêya vekolanan girtiye. Kesên bixwazin dikarin ji malpereyên me, xwe bigihînin gelek zanînên derbarê vê meseleyê de.
Li ser vê xalê dixwazim hebekê behsa Hegel bikim: Jêdera felsefeya Friedrich Hegel a sêqolî (tez, dijtezî û sentez), sêmedîya pîroz a xiristiyanîyê (Bav, Kur û Rihê Pîroz) ye, ku wan jî ji teorîya Hînweriya Rêzepergala Xwedayî (Doctrine of Divine Hierarchy), girtine. Lê kes ji Hegel re nabêje, bes te çi kiriye û îro, wekî damezranerê Îdealîzma Dîyalektîk (Diyalektik İdealizm, Dialectic Idealism) dihê pejirandin. Wekî din jî dema meriv dikeve nav wê çalakîya felsefeyî, pirsan ji xwe dike. Li ser armanca xwe a jiyanê difkire û dixwaze ku bi 'xwe' û xwe binase. Di rêya jiyaneke bextewar û dilpak (xwedanfazîlet) de, felsefe rêhevlatîya meriv dike û hêvîya meriv, a xwegihandina heqîqetê xurt dike. Mixabin, zilm û zordestîya cîranên kurdan û erdnîgerîya me, gelek caran me ji wesfên me yên resen dûr kiriye û em mecbûr mane, ku fikr û ramnên xwe, di bin kirasan de veşêrin. Vê yekê jî, kompleksekî xwekêmdîtinê li cem me afirandî ye. Berîya çend mehan, min derbarê Kozmopolîtîzm û Êzdayetîyê de, gotarek nivîsî. Lê baş dizanim ku nehatime têgihiştin. Çimkî, ta nuha kesî li ser vê meseleyê nenivîsîye. Lê bi rêya wê gotarê, min felsefe kiriye. Divê, em baş têbigihêjine ferqa xebatên zanistî û yên felsefeyî. Ev xal jî, gelek giring e.
6- Xebateke te li ser Mensûrê Helac jî heye. Yek ji wan kesên ku bi awayekî pirr berfireh li ser Helac xebitiye jî rojhilatnasê navdar Louis Massignon e. Wekî tê zanîn Massignon ji berhema Bazîl Nîkîtîn re jî pêşgotinek nivîsiye. Di berhema xwe de Massignon destnîşan dike ku yek ji çavkaniyên wî yên li qadê jî gelê kurd bûye ku der barê Hellac de agahi dane wî. Gelo tu li ser Hellac çi difikirî û têkiliya wî û kurdan çi ye?
– Belê, derbarê jiyan û felsefeya Hellacî (Hallacvan) de kitêbekê min heye: 'Jiyan û Felsefeya Mensûrê Hallac' (Enel Heq) – Weş: Evrensel. 2015. Di kitêbê de, min behsa jiyan, berhem û felsefeya Hellacî kiriye. Wekî we jî gotiye, çavkanîya pirranîya zanînên derbarê Hellacî de, Louis Massignonê fransî ye ku 30 salên xwe, daye xebata xwe û kitêba wî jêderke muhîm û alînegir e. Ne tenê di civaka me kurdan de, di civaka tirkan de jî Hellac zahf nayê zanîn. Çend kitêbên hatine nivîsîn jî, jêgirtin û xulaseyên berhema Massignonî ne. Lê gelek zanînan jî, berevajî kirine. Lê min wekî jêdera sereke, berhema Masignonî bikar aniye û bi awirekî neterefgir, wan raber kiriye. Kurdan, qedr û qîmetekê zahf mezin dane Hellac, ku ew bi xwe jî ji binemalekê mazdeîst hatiye dinyayê. Piştre, hatiye gotin ku piştgirîya serîhildana Karmatî (wekî serîhildana kurdan hatiye zanîn) kiriye û ev yek jî, bûye yek ji wan sebebên kuştina wî. Em bi xwe nizanim bê ka Hellac kurd e yanê na, lê dikarim bibêjim ku gelekî piştgirîya kurdan kiriye û tesîra wî, li ser çanda me zahf e. Mixabin wekî gelek peyayên hêja, haya me zahf ji Hellacî jî tune û divê, em bi zar û zimanê xwe bêtir li ser wan peyayan vekolanan bikin.
Hevpeyvîn: Bêrîvan Kayi
13.10.2021
Çavkanî: Rojnameya Xwebûn
Piştgirî jibo Philosophia Kurdî
Xwedevanên hêja, dilsozên zarûzimanê kurdî. Bi rêya vê sepana Paypal'e, hûn jî dikarin piştgirîya xebatên malper û kovara Philosophia Kurdî bikin û mil bidin xebatên me. Perê ku hûn bexşê malperê dikin, bi tevahî dê ji bo geşkirina malperê û çapkirina kovarê were xerckirin. Em hêvî dikin Philosophia bi nivîskar û xwendeyên xwe bibe xwedî temenekî dûr û dirêj, bibe çiraxek di şevên tarî ên kurdan da, hawaê ramîna philosophic li ber dilê rêber, serek û kargerên kurdan şîrîn bike, da ku ew jî bikanibin mîna ên milletên bi rûmet karê xwe rast bikin. Philosophiaê bi xweşî bixwînin, jê ra binivîsin û mil bibin xebatên wê...