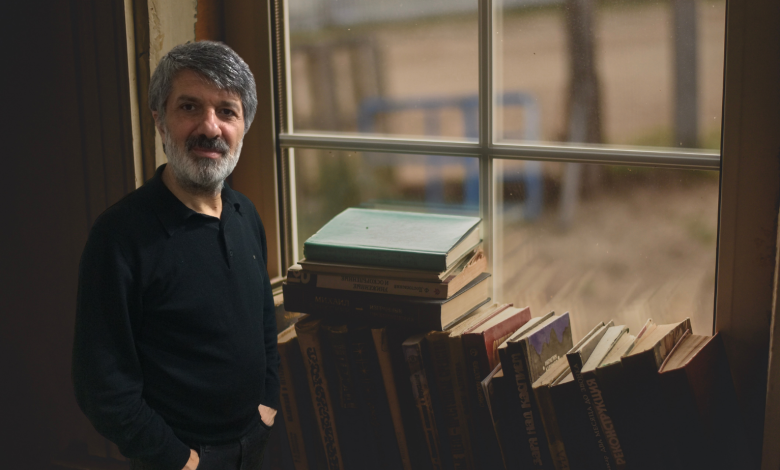 Mamoste û felsefevanê Kurd Alî Gurdilî ji bo me behsa felsefeyê, têgehiştina wê û her wiha pêwîstiya wê kir. Me bi tam û çêja zimanê kurdî behsa felsefeyê kir, pirsa pêwîstiya kurdan ya felsefeyê kir. Alî Gurdilî weke mamostayekî behsa xwe û xebatên xwe yên felsefeyê kir.
Hevpeyvîn: Agirî Soran – BasNews
Agirî Soran: Em bi nasîna felsefeyê destpê bikin. Felsefe çi ye gelo? Hûn pênaseya wê çawa dikin?
Ali Gurdilî: Danasîneke naguhêr ya felsefeyê tune. Lê bi kurtî be jî meriv dikare bibêje ku felsefe, lêgerîneke mirovî ye. Lêgerîna, têgihiştina gerdûnê ye. Wateya jiyanê ye û gelik tiştên bi vî terxî. Felsefe, tiştekî mirovî ye. Perçeyeke mirov e. Di felsefeyê de pirs hene, lêgerîn heye û gerandina bersivan heye. Lê tiştê giring ji bo felsefeyê ev rê û rêbazên ku têne bikaranîn e û beriya her tiştî, divê ew rê û rêbazên aqlî bin. Tiştekî ku em bibêjin misoger e an ku sedî sed nayê guherîn, qet di felsefeyê de tune. Felsefe çawa ku hezkirina zanayiyê be, wisan jî mirov dikare bibêje ku hezkirina zanyariyê ye. Zanyarî jî heye, di felsefeyê de û erdem jî heye, daxwaza têgihiştina bûyera heye. Pirs û lêgerîna bersivan, ku em bibêjin gerîneke bêraweste di felsefeyê de xwe dide der. Felsefe tiştekî mirovî ye. Çawa ku di jiyana me de ol û bawerî heye, siyaset heye, ehlaq heye felsefe jî bêguman heye û herdem hebûye jî.
Agirî Soran: Rê û rêbazên felsefeyê çi ne?
Ali Gurdilî: Felsefe ne zanistek e, ne ilm e û ji ber vê yekê jî, em dibêjin ku felsefe rahişmendiyeke mirovî ya aqilane ye. Rê û rêbazên felsefeyê herdem aqil bûye, mantiq bûye, tiştên ku aqil û mantiqê mirov qebûl nake, felsefe jî wê yekê qebûl nake. Helbet hemû pirs û pirsiyarên ku têne kirin, meriv nikare bibêje ku pirs yan jî pirsiyarên felsefî ne. Beriya hertiştî pirsên ku têne kirin divê pirsên çawa bin? Divê pirsên aqilane bin û divê mirov bêje pirsên giştî bin. Pirsên tevgişt bin. Pirsên giştî çawa ne? Mînak mirov dikare bibêje –Ez çawan îro dikarim herim malê? An rêya mala min nêzî kîjan kolanê ye? Bêguman ev jî pirsek e, lê ne pirseke felsefî ye. Pirsên felsefî beriya hertiştî divê pirseke tevayî be. Felsefe bêhtir bala xwe dide daristanan, bala xwe nade yeko yeko daran. An ku ev dar kîjaye, çawaye, teybetmendiyê wê çawaye filan û bêvan. Felsefe rasterast pirsa xwe dike û dibêje; <daristan çi ye?> Pirsên felsefî ev in, pirsên bi vî rengî ne.
Agirî Soran: Felsefe bi giştî, tevahiya civakê eleqeder dike gelo? Rasterast bi mirov ve jî eleqeder nabe? Bi hiş, mêjî, mirov wekî kes?
Ali Gurdilî: Belê, gelek pirsên felsefî di dema xwe de ku hatine kirin û lêgerîna wê pirsê, bersiva wê pirsê piştre di civakan de bûne rê û rêçik, bûne xwendegeh. Mînak em bibêjin, pirsa yekemîn ya li Antîk Yewnanê hatibû kirin wisa kir ku civak berbi wê pirsê ve here û ne filozofek tenê, bi dehan heta bi sedan fîlozof, ketine lêgerîna dîtina bersiva wê pirsê. Bi rastî tiştekî gelek ecêb e, dibêjin ku Felsefe wekî tiştekî ji civakê cûda ye, cihê ye. Ev têgihiştinek çewt e. Cihê ku mirov lê hebin, jiyana mirovî lê hebe helbet felsefe jî li wê derê heye. Ji ber ku mirov dixwaze jiyana xwe biguherîne an xwe bighîne hindek bersivan, ne tenê jiyana xwe ya kesî, dixwaze ya komelî jî biguherîne. Mînak: Sokrates dema ku bi helwesta xwe ya ku serî netewand, û li himberî wê bêqanûniya Antik Yewnanî rabû, wê demê di nav gel de bû sembolek. Ji ber çi? Ji bo rastiyê, wî rabû canê xwe da û qet ji rastiya xwe û ji fikrê xwe jî xwe neda paş. Elbet rexnekirin û sûcdarîkirin jî çêbû. Sokrates li himberî wan serî netewand, ku sûcdarkirinên niheq bûn. Dawiya dawî, meriv dikare bibêje ku têkiliya felsefeyê, bi civakê re gelek gelek xurt e. Nabe ku mirov felsefeyê, bi temamî ji jiyana civakî qut bike û felsefeyê bike tiştekî wisan nedîtbar yan em bibêjin tiştekî razber. Felsefe heye, di civakê de dijî, tiştekî berbiçav e. Lê helbet sepandinên felsefeyê wekî zanistê an weke olê, di civakê de zêde nayê dîtin. Ji ber ku xebateke aqlî ye. Ji ber wê yekê, em zêde li sepandinên felsefeyê yên berbiçav rast nayên.
Agirî Soran: Baş e, sûda felsefeyê bo mirovan çi ye?
Ali Gurdilî: Sûd û fêda felsefeyê, gellek e û di pêşketina civakan de jî, meriv dikare bibêje ku felsefe xwediyê roleka mezin e. Ez yek hevokê tenê dixwazim bibêjim; heke îro di dema xwe de felsefe tunebûya, ne medeniyeta me a niha hebû, ne mirovayî hebû, ne pêşketin hebû, ne jî zanist hebûn. Ji ber ku felsefe, pêşî li dijderketinek e. Ji me wisa tê xwestin ku em li himberî gellek bûyeran serî bitewînin, belam felsefe li himberî vê yekê serî radike. Qet qebûl nake, pirsên xwe dike û serê xwe radike. Felsefe di desta yekem de, em dikarin bibêjin ku serhildanek e, serhildêr e, serî natewîne û pirs bi pirsgirêkên xwe jî tekoşînek bêhempa daye-dide û ev tekoşîn, ez bawerim hêjî berdewam dike.
Agirî Soran: Mirovek çima û ji bo çi divê ku felsefeyê hîn bibe? Dê çi sûda felsefeyê ji vî re hebe, ku di vê serdema me de hewl bide da ku hîn bibe?
Ali Gurdilî: Em dikarin bibêjin ku felsefe, rê û rêbaza lêgerîna heqîqetê ye. Heqîqet jî, bêguman ne di bin serweriya tu kese de ye. Beriya her tiştî, divê meriv felsefeyê ji bo xwe fêr bibe. Miroveke ku tu carî li wateya jiyana xwe nepirsî be, lê negeriya be, bêguman dê tênegihêje wateya gerdunê, wateya jiyana komelî, wateya jiyana ehlaqî, wateya erdemê, wateya jiyanek bi hevre, daxwaza jiyaneke wekhev û gelek tiştên din. Felsefe, meraq e. Taybetmendiya mirov ya herî berbiçav; ew meraq û hesta şaşwaziyê ye. Em hem meraq dikin, hem şaş dibin, hem ecêbmayî dimînin û hem jî, di dawiya dawî de, em pirsê xwe dikin. Em dibêjin: 'Ev çi ye?' Eger ev lêgerîn, ev daxwaza dîtinê, daxwaza lêgerînê tunebûya, qet pêşketin qet jî çênedibû. Mirov ez ne bawerim ku dê bigihijta wateya xwe ya a neha, wateya xwe ya îroyîn. Mînak, gelek mirov dibêjin ehlaq? Dema em bibêjin ehlaq, gelo mebesta me çi ye? Çimku ehlaqa olî, civakî, takekesî û gelek cureyên ehlaqê hene. Helbet divê meriv bi wateya wan bizanibe û bixwaze wan fêr bibe û wiha jî binirxîne. Rojavayî, niha dixwazin ku felsefeyê hînî insanên xwe bikin. Niha li gellek navendên Ewrûpayê navendên felsefeyê têne avakirin. Felsefe, çi fêrî wan dike? Felsefe ji wan re dibêje ku; hun çawa dikarin ji fikrên xwe yên çewt, an ku fikrên we yên ku rê li pêşiya we digrin, wan fikrên we yên kevneşopî, kevneperest yan hişkbawer; hun çawa dikarin xwe ji wan rizgar bikin? Felsefe, di vê yekê de jî arîkariya mirovan dike. Di felsefeyê de ji ber ku îdeolojî tune, ji ber ku dogmatizm tune, guherîna fikran jî herdem pêkan e. Felsefe fikir û nêrîna mirovan berfireh dike, wan digihêjîne wê çand û nêrîna gerdûnî ya mirovî. Rastî jî, em dikarin bibêjin ku gellekî pêwistiya me bi felsefeyê heye û bi taybetî jî, pêdiviya me kurdan. Ji ber ku di mijarên navborî de, valayiyek bêser û bêber, di çanda me de heye.
Agirî Soran: Kurd çima divê felsefeyê hîn bibin? Kurd parçebûyî ne, bindestin, kurd di bin destê dagirkera de ne. Di wateyekê de, di wateya tekoşîna netewî û siyasî de her çend di nava tekoşînê de jî bin ne yekbûyî ne. Îro ji bo kurdeke em çawan dikarin bêjin –were felsefeyê hîn bibe? dê vê pirsê ji me bike; 'ji bo çi ez dê felsefeyê hîn bibim?, di nav hewqas aloziyan de, felsefe dê çi bide min?' Eger vê pirsê bike, em dê çi bersivê bidinê?
Ali Gurdilî: Bi rastî jî, ev pirseke gellek balkêş e. Pêdiviya me kurdan, herî zêde çima bi felsefeyê heye? Felsefe dogmatizmê red dike, hişkebaweriyê red dike. Rê û rêbazên fikra azad nîşan dide. Vê gavê herî zêde jî pêdiviya me kurdan ji bo vê yekê, bi felsefeyê heye. Mînak; îro pirsgirêka me ya herî mezin yekîtî ye, yekîtiya me ya navxweyî tune. Ji ber çi tune? Ji ber ku ez dibêjim, azadiya fikrî tûne. Azadiya ramanî tune. Di civakekê de tu kes nikare ramanên xwe bibêje, dibe ku ev raman cihê bin, cûda bin, an jî diijber bin û ji ber tirsê nikaribe bibêje. Wê demê ne pêkan e ku civak bi pêş bikeve yan an bikaribe xwe nû bike, yan jî bikaribe pirsgirêkên xwe çareser bike.
Eger em bikaribin îro pirsgirêkên kurdan yên navxweyî, yên nijadî, pirsgirêkên neteweyî, pirsgirêkên rêxistinan, pirsgirêkên partiyên siyasî yên navxweyî û yên ku li himberî hev nîşan didin, em nikaribin wan bi rehetî û azadî bipeyivin, wê demê em nikarin çareseriyekê jî peyda bikin di vê rewşa kaotîk û aloz de. Eger ku kurd felsefeyê bixwînin, eger me xwendiba, beriya hertiştî em dê bûbane kurd. Pirî caran min gotiye; kurd dibine hertişt. Belê em dikarin bibin hertişt, lê tiştê herî dijwar, belkî sed sale jî, dîsa xwebûn e. Yanî em kurd, nikarin bibin wekî xwe. Ev rewşeke, gellekî dijwar e.
Felsefe di vê yekê de birastî jî dikare, gelek gelek arîkariya me bike. Tolerans çi ye?  xweşdîtin çi ye? Çawa em dikarin li himberî hev bi rêzdarî tevbigerin? Çawa em dikarin li hev guhdar bikin? Çawa em dikarin wekehev nefikirin jî, em çawa dikarin yekîtiya xwe pêk bînin? Gelek rê û rêbazên ku dê bi kêrî me werin, di felsefeyê de hene. Jiyana fîlozofan li ber çava ye, rê û rêbazên wan hene. Dîroka rojavayê heye. Em dikarin gelek ji wan tiştan sûdwerbigirin. Lê mixabin weke do, îro jî dogmatizmek li temamiya rojhilata navîn serwer e. Em bixwazin nexwazin, ev dogmatizma, ango hişkebaweriya ku serwer e, desthilatdarê erdnîgeriya Rojhilata Navîn e. Mixabin kurdan jî digre nav xwe û rê nade kurd bi awayekî xweser, bi awayekî wekî xwe (kurd) bi fikirin. Em dikarin bibêjin ku felsefeyê, ji erdnîgeriya kurdan des pê kiriye û li cîhanê belav bûye. Mezopotamya yekem car axa medeniyetê ye, warê zanistê ye û yekem car li wir derketiye holê. Fikra dualîtiyê, ramana dualîtiyê, yekem car bav û bapîrên me dîtine û bi xêra bav û bapîrên me, li cîhanê belav bûye.
Medeniyeteke bi vî awayî, medeniyeteke zengîn û dewlemend, çawa ketiye vî halî? Çawa em ketine vê feqîriyê? Bi rastî tiştekî gelek gelek ecêb e. Ez pirî caran bi vê yekê gellek diêşim û li ser vê yekê, xwe gellek diwestînim, li ser difikirim û ji xwe dipirsim û dibêjim; gelo em çawa dikarin vê yekê çareser bikin?
Kêm zêde, bîrûraya kurdî, qasî panzdeh sal in, ku min nas dike û bi xweşdîtina min dizane. Beriya her tiştî, divê em kurd li himberî hev, ji bo fikrê xwe, ji bo fikrên cihêreng, bi rêzdarî, bi rêzgirî tevbigerin. Divê, em xwedîtolerans bin. Ez ne wekî te bifikirim jî, divê ez te guhdar bikim. Dibe ku ez ji fikrên te, ji fikrên te yên cihê jî gelek tiştan fêr bibim. Neha gelek caran di civaka me de hişkebawerî wisan desthilatdar e ku; wiha tê dîtin ku yên cihê yan dijber, ne ji civaka me ne, heta weke dijmin jî têne dîtin. Ev çanda dijminatiyê, mixabin mala me xirab kiriye. Ev çanda dijminatiyê, gellek xirab e, divê em ji vê çanda dijminatiyê, gellekî zû xwe rizgar bikin.
Agirî Soran: Di wateyekê de wekî ku hun dibêjin; felsefe ne ku tiştekî wisane xisarê bide me, an em jê bitirsin yan em jê birevin an ku divê em bizanibin, hîn bibin, fêr bibin, xwe pêş bixin da ku em karibin kurdewariya xwe jî bihêz bikin?
Ali Gurdilî: Belê, wisa ye. Bi rastî jî ew gelek tiştên çewt ji bo felsefeyê têne gotin. Tu têkiliya felsefeyê bi wan baweriyên çewt re tune. Felsefe alîkariya gelek tiştan jî dike. Felsefeyê wekî dijberê ol, dijberê dîn nîşan didin, ev çewtiyeke gellek mezin e. Felsefe tenê dixwaze ku bingeha hemî bawerî û ramanan, bi awayekî aqlî şirove bike. Wan têbighêje, gelo ev pêkane an ne pêkane? Tiştekî wisan tune, di gelek meseleyan de felsefe dikare arîkariya me bike. Ew tolerans, ew xweşdîtin, ew çanda pêdiviya me pê heye encax bi rêya felsefeyê dikare di çanda me de pêk were û pêş bikeve. Ez dibêjim a niha jî, ji çekan, ji topan, ji hêza çekdarî, jê hêza artêşê zêdetir pêdiviya me bi vê nêrînê heye. Ev nêrîna xweşdîtinê, toleransê, rê rêbazên aqlî, ji civaka me re divên û divê, em vê yekê pêk bînin. Eger heta niha ev yek pêk bihata, bi rastî jî niha rewşa me a kaotîk dibe ku ne ev bûya.
Agirî Soran: Mijarên felsefeyê ji xwe mijarên gelek kûr û dûvdirêj in. Lê em dixwazin ji mijara felsefeyê, herin mijara Felsefevan. Felsefevan Alî Gurdilî kî ye? Neha di nav kurdan de felsefevan, kesên ku weke mamoste bi felsefeyê ve mijûl dibin pir nîn in. We çawa dest bi fêrbûna felsefeyê kir?
Ali Gurdilî: Ez di sala 1966an de, li navçeya Gurdila (Misircê) ku ser bi bajarê Sêrtê ve ye, hatime dinyayê. Malbata min malbatek polîtîk û siyasî bû. Piştî derbeya leşkerî ya 12'ê Îlona 1980'ê, malbata min naçar ma koç bike here bajarê Îzmîrê. Min dibistana lîseyê li Îzmîrê qedand. Piştre, min Zanîngeha Egeyê, beşa Civaknasiyê qezenc kir û xwend. Piştî xwendinê, min mamostatiya felsefe, civaknasî û mantiq û psîkolojiyê kir. Di dema momastatiyê de jî, bala min gelekî li ser kurdî bû û min têgeh û peyv kom dikirin, li ser wateya wan şiroveyan dinivîsand.
Wê demê berhemên kurdî, zêdetir li Swêdê dihatine çap kirin û ev berhem digehiştin mala me jî. Min ji wan behmanan, gelekî sûd wergirt. Di vê demê de, di warê felsefe û civaknasiyê de, ez têgihiştim kêmasiyên me. Bi vî awayî, min biryar da ku di wan mijaran de bi zamanê kurdî, ez bixebitim. Ev e 15 sal in, ku ez di van mijaran de lêkolînan dikim û dixebitim. Lê birastî jî, çavkaniyên bi kurdî gellek kêm in yan jî ji xwe tune nin. Ferhengeka felsefeyê, civaknasiyê, derûnnasiyê tune. Di nav berhemên kevin yên kurdî de, gellek ramanên zanistî û felsefî hene, lê wek xebatên modern û rêkûpêk, mixabin tune nin û xwezî, beriya min jî di vî warî de kar û berhem bihatana afirandin û min jî karibûya ji wan sûd werbigirta.
Agirî Soran: Berhem û karên we kirine jî hene?
Ali Gurdilî: Belê. Xebata min ya derbarê felsefe û jiyana Mansûrê Hellac de, beriya demekê ji aliyê Weşanxaneya Evrenselê ve hate çapkirin. Pirtûkek biçûk e, lê zanyariyên dewlemend têde hene. Li Almanyayê jî, ji aliyê Weşanxaneya Soran ve pirtûka min ya bi navê Destpêka Felsefeyê hate çapkirin. Ev kitêb, weke materyala dersan jî dikare jê sûd were girtin. Ji destpêka serê salê ve jî, me dest bi weşana Kovara Felsefevan kir. Bi tevî hemû derfetên kêm jî em xwe bê hêvî nakin û karê xwe jî berdewam dikin. Û em baş dizanin ku bi tejde û zordestiyan jî, tu kes nikare rê li ber heqîqetê bigre û kurdan tune bihesibîne. Birayê min ê mezin, di sala 1978-79an li Îzmîrê yekem kovara bi kurmancî ya li Tirkiyeyê, ku navê wê 'Tîrêj'ê weşandibû. Min jî piştî 35 salan, rabûm û yekem kovara felsefeyê çapkir. Ev yek, bo min bû şanaziyek mezin. Çimku ev kar, ji bo min wezîfeyeke ehlaqî bû. Her ku min karkir, min zêdetir jê hez kir-dikim. Ji bo ku meriv bikaribe salên demdirêj karekê bike, divê meriv jê hez bike. Ez ji zimanê xwe hezdikim û dixwazim, ku bi zimanê xwe kar bikim. Ez baş dizanim ku zimanê me, têra fêrbûna felsefe û zanistê dike, lê divê bê bikaranîn. Mijarên, ku me a niha wan daye berxwe û dikin, mijarên zanîngeha û dibistanan in û em baş dizanin ku weke nan û avê, pêwîstiya me bi wan heye. Lê divê meriv berî her tiştî, bizane ka çi bo me pêwîst e?
Agirî Soran: Hûn li ser mijarek giran, a weke felsefeyê bi zamanê kurdî kardikin. Ev yek hestek çawa ye?
Ali Gurdilî: Ev karên demdirêj in. Divê meriv berî her tiştî bikare demekê bo van karan terxan bike. Em berhemên xwe li ser malperê, pirtûk û kovarê û navnîşanên medya sosyal (facebook-twitter) jî parve dikin. Mala kurdîhezan ava be, ku li her devera cîhanê alîkariya me dikin, piştgiriyê didine me û ji me, hezdikin. Em dibînin ku kesên dibin alîkar, pirtûk û kovaran dikirin, ne kesên dewlemend in. Karker in û yan jî ne xwediyê hatiniyeke mezin in, Jiber ku dizanin, divê ev kar berdewam be û divê ji bo nifşên nû, bibe hêvî û çavkanî, gellekî alîkariya me dikin. Mala wan ava. Ez jî gellekî baş dizanim ku dê nifşên me yên nû, di vî warî de karên gellek baştir bikin. Lê qet nebe, dema wan dest pêkir, dê di bin destê wan de hinek çavkanî hebin. Hewldana me jî, ji bo vê armancê ye.
Hevpeyvîn: Agirî Soran – BasNews
01.09.2015
Çavkanî: Basnews
Piştgirî jibo Philosophia Kurdî
Xwedevanên hêja, dilsozên zarûzimanê kurdî. Bi rêya vê sepana Paypal'e, hûn jî dikarin piştgirîya xebatên malper û kovara Philosophia Kurdî bikin û mil bidin xebatên me. Perê ku hûn bexşê malperê dikin, bi tevahî dê ji bo geşkirina malperê û çapkirina kovarê were xerckirin. Em hêvî dikin Philosophia bi nivîskar û xwendeyên xwe bibe xwedî temenekî dûr û dirêj, bibe çiraxek di şevên tarî ên kurdan da, hawaê ramîna philosophic li ber dilê rêber, serek û kargerên kurdan şîrîn bike, da ku ew jî bikanibin mîna ên milletên bi rûmet karê xwe rast bikin. Philosophiaê bi xweşî bixwînin, jê ra binivîsin û mil bibin xebatên wê...