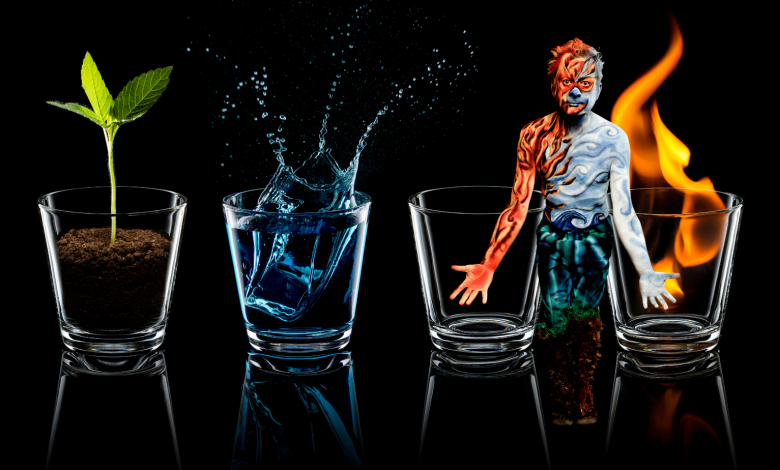 Thales: Thales  binecihê Miletos'ê ye, (B.Z 624- 546) de jiya ye. Thales berî her kesî ''Pêgirtina Tavê'' dihese û radigihîne, yanê berî her kesî vê bûyerê hîs dike. Ev pêşdîtinek zanyariyê ye. Belam, ev ji bo wî ne nişîdê dehabûnê bû, ji ber ku Lydîa-Mîletos bûbûn yek û ji hêlkê ve jî ji hêla  çandê  Lydîa-Babîliyan têkiliya wan bi hevdu re  hebûn. Stêrknasên Babiliyan ''Pêgirtina  Tavê'' li gor serdemên esasên 19 salan jixwe dîtibûn. ''Pêgirtina  Hêvê'' jixwe tam pê dizanîbûn û dîtibûn. Yanê Babiliyan gelekî ji stêrnasiyê fam dikirin. Lê ji ber ku ''Pêgirtina Hêvê'' hêlek wê dixuya, hêlek wê jî nedixuya ji ber vê sedemê pirsgirêk derdiketin holê. Belam, ne Thalesî, ne Babiliyan nizanîbûn ji bo çi ''Pêgirtina Tavê'' gergerok e, an jî  dizîvire. Li gorî gotina, Thales li Misirê geriyaye û disîplîna Geometriyê ji wir haniye Grekê. Thales li Yewnanê  ji nav heyşt zanyariyan jê yek ew bû. Peyva ku Thalesî dike zana an jî  wî pêş de derdixe ev e:''Tişta en baş  Av e''.  Li gorî Thalesî erd li ser avê ye,  hemû bireser ji avê  za (welidî ye) ne.1 Li gorî Thalesî, hilma avê ya weke gazê û cismên hişk (yanê yê ku neheliyayî ) ên weke cemedanan de, ava  rohnbûyî-tîrbûyî heye. Ji ber vê yekê  ev tişt dibe sedema du cureyên hebûnê. Ewcax hebûna hertiştî ''av'' bixwe ye. Thales, livê, guherînê û bûyînê, ji bo hebûnê  weke taybetiyek hewcedarî dipejirîne. Lê ji hêlkê ve di binê guherînê, livê û bûyînê de li tiştekî ku nayê guherandin heye an na li wê digere, yanê li cewherekî ku timî wek xwe dimîne digeriya, li ser vî esasê dirawestiya û ev pirs ji xwe'r sewal dikir. Talî Thales him ji guhertinê bawer dikir-dipejirand, him jî ji tiştekî ku tim wek xwe diminî bawer dikir2. Bikurtasî di esasê perspektîfa Thalesî de, herçiqas tişt biguhere, veguhere û dagere jî talî di hemû guhertinan de cewherek heye, ew kakil jî av e.
Thales feylesofêkî Dibistana Mîletosê ye, heta feylesof û zanyarê ewilî tê pênasekirin. Li gorî feraseta Thales Arkeya hemû tiştî ji ''Av'''ê dizên, cewherê  hertiştî  ''Av'' e. Yanê her tişt diguhere-vediguhere, lê talî di hemû guhertinan de, binyada wan celebên ''av''ê  ne, ango ji avê dizên. Thales, hemû guhertinan li ser esasê  elemanta avê radiwestîne. Hebûn-xwezayê li ser esasê avê radiwestîne, ango hemû tiştên ku li ser dinyê heye dixe hundirê perspektîfa xwe'y  ''Av''ê . Hebûn ji avê tê, ger av tune be, ewcax  heyîn jî tune ye. Thales  avê ewilî weke vejîna dinyê-xwezayê û paşê weke bingeha vejîna mirovan dibîne. Ji ber ku av tune be, ne Zoolojî, ne Antropolojî  û ne jî  Botanîk diwelidin welew dijîn.''
Av''tiştekî  him xeterebûnê, him jî pewistbûnê di dawa xwe de kedî dike. Ji bo jiyandina kirde-bireseran tiştekî  krîtîk e, yanê him hewcedariya wê heye, him jî xetereyên wê hene. Mînak, av dikare hemû tiştan bide berxwe, hertiştî li bin guhê hevdu bixîne, baran ji avê dizê ger bahozek  xurt  çêbibe an şekeliyek çêbibe dikare gelek tofana bi xwe re bizeyîne. Hewcedariya wê ji xwe diyar e, ger av tune be, ne însan, ne teba, ne şênayî diminin. Gişên ew ê hişk bibin. Cihê ku ji avê dizên an jî cihê ku şil in:  Behr, gol, robar, cihê nermijokî, cihê kevzokî, cihê kufikî … hwd ev têgehan hinek nexweşiyê bi xwe re diafirîne, hinek jî bo ekolojiyê gelekî pêwist e. Heta ji bo jiyanê di dikeke herî bilinde ye. Av hilberîne, ger hilberîn tune be ewcax zihabûnê pêk bê. Talî Thales bi perspektîfek xwezayî li avê nêrî ye, yanê  heger peykerek li holê be, divê ev peyker ji hin tiştan afirîbe, Thales divê ruhê peyker av e, yanê anatomiya wî , ango cevherê wî ji avê dizê. Xweşikbûna bedena wî, şiklê wî, hemû alavên ku tê de hatiye bikaranîn giş ji avê dizên. Esil di Talesî de ''Av'' xweza ye, xweza jî Xweda bi xwe ye.
Anaximandros: Anaximandros feylesofê mîletosê yê duyemîn e. Di der heqê zayina wî de tiştekî diyar tune ye. Anaximandros, wek Thalesî nafikire ew jî li gorî bêjinha hişê xwe nêrînekê derdixîne pêş de û dibêje cewhera heriştî ''Bêpêşî-Bêdawî ''ye. Li gorî Anaximandros pîvana ''hewa'yê, av'ê, ya êgir diyardeye. Û her element bo ku împaratoriya xwe berfireh bike her daîm dişixulin. Lê tim di navbera wan de pîvaneke bêgavî heye, an jî zagonek xwezayî di têkiliya wan de hene. Yanê Anaximandros dibêje ger av tenê cewher be, ewcax divê av di hertiştî de gerek deshilatdarbûya, gerek elementên din têketina bin hikuma elementên din. Belam, element berevajî hevin, agir dikare avê bitefîne, ji ber vê yekê jî tenê elementek nikare bibe deshilatdar an jî bibe abadîn.(3) Li gorî Anaximandros, Divê tiştê ku li dorhêla xwe em dibînin cuda-curbecur in. Tiştekî weke avê bi sînor û taybetiyên bisînor di xwe de dihewîne, çawa dikare tiştên cuda û curbicur di dawa xwe de xwedî bike, heta beravajî hev in.
Mînak; êzing dişewite, lê li gorî feraseta Thalesî ev tişt (yanê şewitandin) jî ,teşeyeke ava tîrbûyî ye. Belam, av naşewite, bervajî tiştekî vedimirîne. Ewcax divê tiştekî weke agir dişewitîne ew ê çawa ji avê çêbûbe, an jî ew ê çêbibe. Agir, ew ê çawa bibe çeşnekî avê. Anaximandros vî tiştî weke notr dibîne û dibêje; ya/ê ku hebûyî divê hê jihevveneqetiyayî-jihevnevecudayî ne weke ''Abadîn, bêsînor û nediyarbûyî ye'' ji vî tiştî re jî dibêje Apeiron. (4) Di vir de diyalektîk derdikeve ber sifra çavên me yanê guhertin, vajîbûn, dagerîn ango li gorî Hegelî hertişt tez-sentez-dijtezê pêk tê…hwd. Yanê ger yek tenê deshilatdar be, divê yên din gerek ji holê rabin, hemû element bi hevre bi awayekî dîyalektîk pevre girêdayîne, têkiliyên wan bi hevre henin. Li gor nêrîna Anaximandros, esasê afirandina xwezayê an jî a dinyê ji bêpêşî (îlksîz) û ji abadînê (sonsuz) dizên.
Anaximenes: Ev feylesof, yê dawiyê ye, ew jî yê feylesofê dibistana Mîletosê ye. Welidandina dîroka wî baş ne diyar e. Li gorî feraseta Anaximenes  kakilê  her tiştî ''Hewa'' ye. Belam, li gorî Anaxismenes, ''hewa'' di hundirê agirde diparzûne (süzülmek) û dûre tîr (yoğunlaşma) dibe vediguhere avê, her ku tîr dibe vediguhere axê-keviran, li gorî feylesofê me dinya weke maseyek girovere û hewa her tiştî dipêçe an jî hawîrdor kiriye. Yanê di nerîna Anaximenes de bingeha hertiştî ji ''Hewa'''yê dizê. (5) Talî her sê feylesof li ser têgehên xwezayê ramiya ne, di xwezayê dikevin rê di vê rêwitiyê de her sê jî ji  xwe re lêkolîn, pirs û ramîna diafirîne, ji bo ku xwe bigihêjîne heqîqetê-hebûnê ji bo ku rastî heqîqetê were û bibîne vê rêwîtiyê dikin. Thales li ser ''av''ê ramiya ye-rawestiye. Anaximandros, li ser pîvanê rawestiya (pîvana hersê elementan û bêpêşî-abadînê) û Anaximenes jî, li ser ''hewa''yê sekiniye, Heraklitosî jî li ser têgaha ''Agir'' rawestiyaye. Empedoklesî jî li ser têgeha ''Ax''ê rawestiyaye.

AV: tiştekî şil e, nermayî ye loma jî dibe sedemên gelek talokeyan. Xetereyên ji avê diafirin: Kûfik, bahoz, şekelî… hwd. Ewcax li gorî van têgehan ''av'' heman demê de deshilatdariyê di xwe de dihewîne, gava şekeliyak an jî bahozek rabin ew ê gelek tiştan biherimîne û bide berxwe. Deshilatdariya wê tenê ji van tiştan nayê gava av tune be, wê çaxê hemû zindî ew ê hişk bibin û bimirin. Dêmeg av him deshilatdariyê , him jî pêwistiyê di xwe de dihebîne. Av, deshilatdarê xwezayê ye, deshilatdarê mirov û ajalan û şênayê ye. Wê çaxê av tune be, hilberîn jî ji holê radibe, ya ku hilberînê dizeyîne dîsa av bixwe ye. Welew mirov dikare wiha bêje pêdiviya hilberînê ji avê heye. Av, çiqasî xwedî hilberîn be jî ewqas jî talokê wê henin. Av bi serê xwe elementek dîyalektîkê ye. Bi kurtasî ''av'' ji bo hemû jiyanê pêwistiyek herî giring e. Av =Jiyan e.
AGIR: Ev têgeh jî ji bo jiyanê him xetereyan, him jî hewcedariyan di kozika xwe xwedî dike. Agir tiştan zûwa dike, yanê tiştekî zûwabûnê di xwe de dihundirîne, lê av beravajî êgir e. Agir têgeheke ronahiyê-germbûnê û zihabûnê, ew jî têgeheke deshilatdar e welew xurtbûneke di nava dawa xwe de xwedî dike esil hersê element him deshilatdar in û him jî hewcedar in . Ger agir bi ku cihî keve, ew cih dibe pîşot û talan, yanê ziha dike, lê biqasî avê pêwistiya êgir jî, ji bo jiyanê hewce ye. Ji ber ku bo xwarinekê bo ewlehiyê bo germbûnê, ji bo ronahiyê… hwd pêwistêyên êgir henin… Agir=Jiyan e.
HEWA: Çawa Agir û Av, him xetereyên wê û him ji hewcedariyê wê hebûn bo Hewa'yê jî heman tiş derbasdar e. Ger mirovek-zindînin di atmosfereke bêhewayî de bimîne, ewcax ew ê bimirin û şîn nebin, Lê hewa li gorî herdu elementên din hîna hewcedariya wê heye, ji ber ku mirov an jî heywan dikarin heta demekê bê av û agir bisekinin, belam hewa ewqasî derfetê nade mirovî û hemû zindiyan, yanê li gorî herdu elementên din vêca pêwistiya demê dikeve dewrê… Talî ew jî di jiyanê de deshilatdar e,him ji hêla hewcedariyê û him jî ji hêla xeteriyê de. Her sê element jî ji bo jiyanê ji hêla hewcedariyê-xeteriyê deshilatdarin. Ji ber vê yekê her sê feylesof ji ber hewcedarî-talokeyên wan elementên deshilatdar ên dî ne. Li gorî xwe li ser ramiyane, li ser çavkaniya wan sekiniye û lêkolînan kirine, li gorî çavdêrî-lêkolînên xwe tez-sentez-dijtezên xwe li ber merşa çavên me raxistine. Welhasil her sê jî pêwistin bo jiyanê, belam feylesofan pirrtir li ser afirandina anatomiya xwezayê geriyane an jî xweza çawa welidiye, bi vê mentiqê li elementan nêrîne. Lê gava mirov bala xwe dide her sê têgehan, her sê jî di hemêza xwe de deshilatdariyê-hewcedariyê xwedî dikin. Ev jî tê vê wateyê ku di lêkolînên xwe de feylesofên xwezayê an jî xwezaperest li çav deshilatdariya xwezayê ketinin û hêdî hêdî pirs, meraq û hwd bi wan re afiriye. Têgihiştine ku Xweda element in. Xweda di hersê elemantan de ye. Ewcax yên ku ewilî xweza afirandiye ew dibe hikumdarê xwezayê, jixwe xweza bixwe Xweda ye. Talî hersê feylesof bo wan Xweda elemantê wan in. Pirraniya wan li ser hêmayên stêrk, stêrknasî, hêv, roj, av, hewa, agir, ax û hwd. rawestiyane. Talî: peyker, ji her sê elementan dizên. Ger hesinek bo peyker hewce be, divê av-herî jî hewce be, ji bo zihabûna peyker jî agir lazim e. Bikurtasî bo ku peykerekî spehî (estetîk)-bedew biafire divê hersê element jî hebin yanê bi awayekî diyalektîk bi pevre girêdayî ne û hwd.
1) Bertrand Russell, Dîroka felsefeya Rojava, Cîlda yekemîn, Werg, Muammer Sencer, Weşan, Say r, 127-128
2) Prof. Dr. Ahmet Arslan ,Destpêka (Daketina) Felsefeyê, Weşan ,Vadî, r,63-64
3) Bertrand Russell, Dîroka Felsefeya Rojava, Cîlda Duyemîn, Werg, Muammer Sencer, W: Say, r,129-130
4) Prof. Dr. Ahmet Arslan ,Destpêka (Daketina) Felsefeyê, Weşan, Vadî, r, 63-64
5) Bertrand Russell, Dîroka Felsefeya Rojava,Cîlda Yekemîn, Werg, Muamer Sencer, Weşan, Say, r,130-131
6- Çavkanî: www.felsefevan.org
Piştgirî jibo Philosophia Kurdî
Xwedevanên hêja, dilsozên zarûzimanê kurdî. Bi rêya vê sepana Paypal'e, hûn jî dikarin piştgirîya xebatên malper û kovara Philosophia Kurdî bikin û mil bidin xebatên me. Perê ku hûn bexşê malperê dikin, bi tevahî dê ji bo geşkirina malperê û çapkirina kovarê were xerckirin. Em hêvî dikin Philosophia bi nivîskar û xwendeyên xwe bibe xwedî temenekî dûr û dirêj, bibe çiraxek di şevên tarî ên kurdan da, hawaê ramîna philosophic li ber dilê rêber, serek û kargerên kurdan şîrîn bike, da ku ew jî bikanibin mîna ên milletên bi rûmet karê xwe rast bikin. Philosophiaê bi xweşî bixwînin, jê ra binivîsin û mil bibin xebatên wê...